I'm not saying this is going to make any extra horse power, I did this mainly because I absolutely hated the look of the intake muffler on the engine. Ok now that we are beyond that here is my answer to the problem. My boy DurangoFreak and I have gone to the performance hood and have been looking for an option that would fit the truck with a closed filter. Keep in mind when we started this there were no enclosed CAI that fit the 16-18 trucks, and now there is.
DurangoFreak had a K&N AirCharger kit #63-1563 and I had seen pictures and thought the K&N tube might work with an OE style airbox. So he did an little R&D and it worked. So I called K&N, they are usually pretty easy to work with and was able to order only the parts that I wanted/needed from the kit to get rid intake muffler/silencer.
So here is what I used and what I had to do the get it to work, spending the least amount of cash, and maintain an OE look.
Fist of all we are running OE SRT lower air boxes with high flow panel filters. So we basically created a CAI...we dubbed "Frankinintake". All the info on the SRT airbox is in this thread:
http://www.dodgedurango.net/forums/durango-performance-2011/57593-oe-air-box-pulls-more-air.html
Here is the install instructions for the K&N kit:
https://www.knfilters.com/instructions/63-1563_inst.pdf
You'll use them for most of the tube install.
So I called K&N an ordered the following parts:
1 x 087249A - TUBE: FIPK 63-1563 $40.99
4 x 08620 - HOSE CLAMP, #56 $3.10 (you only need 3 but 4 is the same price so what ever, and they cheaper from K&N then Lowes)
1 x 08630 - Bubber Hose; 3-1/2" ID x 2" L $6.43
1 x 08064 - Grommet; 1" OD, 1/2" THK
1 x 08050 - Rubber Hose; 4" ID reduced to 3-1/2" ID x 3" L $11.99
So the parts total from K&N is: $62.51 + tax
The other parts you need are:
1 x 4" hose clamp
1 x Brass plug - 1/4" NPT (the plugs are a pretty standard length)
1 x IAT extension harness. You can get this from K&N, but I felt they wanted to much for it so I got one from eBay for 1/2 the prices.
https://www.ebay.com/itm/Air-Temp-S...m=152212063338&_trksid=p2060778.c100290.m3507
The hose clamp and the plug you should be able to find at a local hardware store.
Ok now the extra stuff that I had to do not following the K&N directions.
1. I cut of 1-3/4" off the filter side of the intake tube. You probably don't have to do this but I want the intake tube protruding into the airbox.
2. I wanted to keep the set up looking as stock as possible while spending the least amount of money to make this work. Obviously the K&N CAI eliminates the airbox witch is where the crank case vent tube runs. The K&N kit replace this with a hose that runs to the bottom of the intake tube. I solved this with the brass 1/4" NPT plug.
I would have preferred to use a recessed allen head plug but couldn't find one so this works just fine.
3. The exit port of the OE airbox is actually 4.25" ID but I couldn't find a coupler that size so I got the 08050 - Rubber Hose; 4" ID reduced to 3-1/2" ID x 3" L from K&N in hopes I could make it work. The coupler is a silicon type rubber and really flexible so I was able to stretch in on there without any problems.
With the 3 exception I listed just follow the K&N directions for everything else.
Once I had it all on I did take off the OE bracket that was there for the GIGANTIC intake muffler, because it no longer serves a purpose. Also if I'm not mistake for you guys that are into the catch can thing...this is where it's mounted on the cars with the 5.7 Hemi. Just sayin.
Here are some pictures of the tube in place.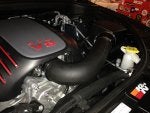 Over all pretty easy to do. The engine bay looks much cleaner now and I can here the intake. But some of that is do to the SRT lower airbox.
If you have any questions let me know.
Once again thanks to DurangoFreak for the assist and R&D. He also has a tuner and was able to make some runs with the "FranK&Nintake" so if you have questions about the performance of the set up he can probably help some with that.