2001 Durango R/T frame on restore
Hello:
Noob to the group. I am about to complete a frame off restore of a 2001 Durango R/T "Black Beast".
. I purchased ( also known as got ripped off) this for $3500. Since the moment I hit the highway with it, I have been fixing problems with it. First I could not steer without 2.5" of play!. Yes that is right I could not
begin to steer
with out turning the wheel 2.5". If you know Durangos, then you know this was an easy fix. So the first thing done was replacing the intermediate shaft.
After completing the steering fix, I moved to the brakes. The kid I bought it from said "I think you need to put another disc clip" on. Well this is what I found:
Somehow the disc brake clips are on the calipers incorrectly, the rivet touching the hat on the rotor
, which subsequently caused the rivet to gouge a 3mm annular groove around the rotor hat. This increased pressured pulled down the brake pads so hard on the steering knuckles that his happened:
You can see in the circled part how the pads have grooved so deeply into the knuckles that the pad have dropped into and pulled through this gap. Now the pads are stuck at the top and float down to the center of the rotor. As each time the brakes are applied it
effectively brakes less!
. Notice on the rotor how the shiny part is at the bottom. The top is locked into those grooves on the steering knuckles. A couple of hot heat cycles in the city and these babies are ready to turn into exploding brakes. No thanks.
This is pretty much where my stomach starts turning. The whole underside of the car, dirt road queen.​
Surface rust from sand with that nice red rusty top coat from salt! My favorites: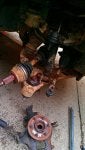 First one is a ball joint ready to snap, notice the rusty colored salts on rock chipped paint. Every dirt road queen in Michigan has it. Second one bad hub, bad half shaft, tie .... just fix it all. Third one is a shot of the grooves in the steering knuckles. Fourth one tie rod that came off easy. completely different size from the other side.
I've got lots more to the story so far. I'll update this as I move along.